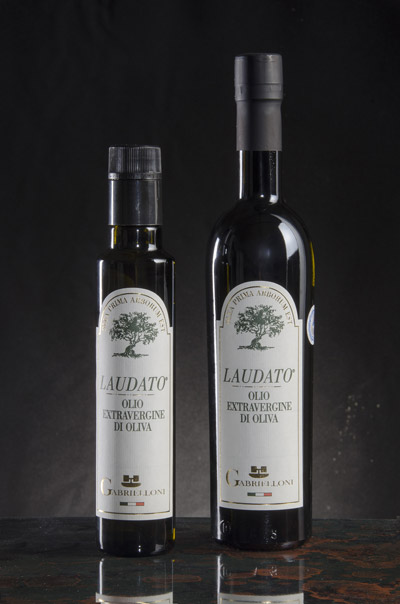 Laudato® is the crown jewel of the Gabrielloni® olive oil mill. A top-quality extra-virgin olive oil, it is a blend of other, single-olive varieties of oil, starting with "Frantoio" and "Leccino", after which "Coroncina", "Orbetana", "Piantone di Mogliano", "Hard Ascolana" and "Tender Ascolana" and others are added.
Each type of olive is hand-picked in the family's groves before it fully ripens (when the olives have reached roughly 30/40% of their full colour) and processed separately on the same day as harvesting. The mix of single-olive oils gives the product a harmonious, mildly-fruited scent with subtle hints of fresh grass, artichoke and green tomato. Basically a sweet olive oil, but with the slightest spicy tang and a lightly bitter aftertaste, it leaves the palate with a pleasant recollection of almond.
The early harvesting results in an extra-virgin olive oil with a very low level of acidity and a rich store of phenol substances, meaning the antioxidants that delay the ageing process.
The bouquet of scents and the final mix of tastes bring out the best in any dish: from egg-based pasta first courses to entrees of fine fish and meat.
Awarded multiple prizes, including international recognitions AWARDS link, in 2005 Laudato® was designated as the "Best Extra-virgin Olive Oil Produced with Traditional Method" by the UMAO, the rigorous and highly qualified Mediterranean Union of Olive Oil Tasters.
Comes in 0.500-litre and 0.250-litre exquisite bottles.
Colour: green with flickers of gold, clear.
Acidity: lower than 0.20%