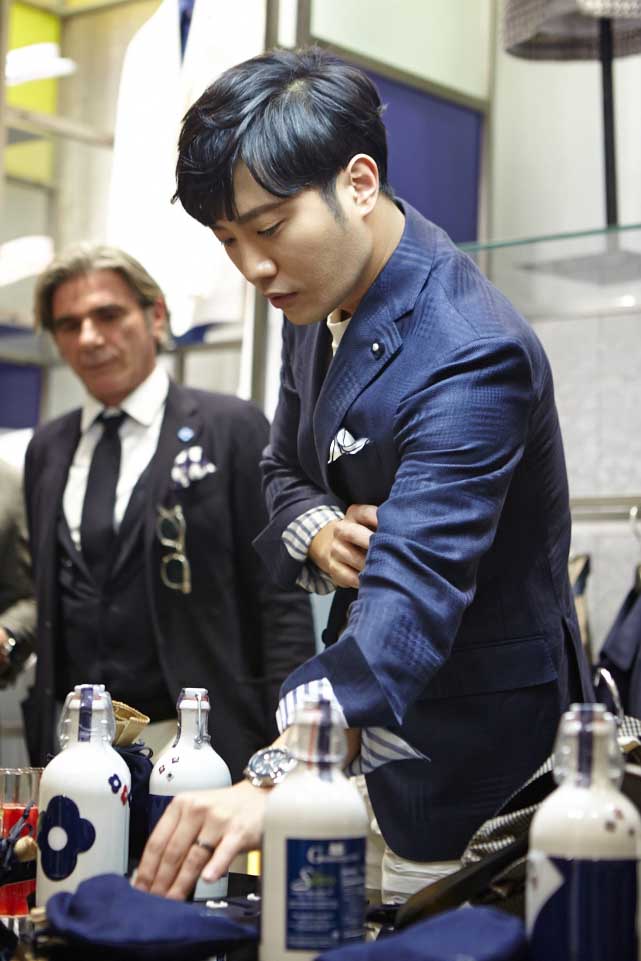 Lardini® Fashion launches its boutique in Seoul inside of the Shinsegae store located in Gangnam. The roll-out has been delighted by Solivo evoo. Among fashion&food lovers, the famous South-Korean actor Jin Goo.
Haute couture and wine&food niche are by now two sectors through which

Italy is recognized and appreciated all over the world.
Sure enough, there is a close relationship between Italian identity and all that concerning craftsmanship and creativity.
Say fashion means saying Italy as well as say wine&food means calling to mind landscapes and products of our Country.
Two sectors seemingly different but actually similar and even in purpose exactly alike: create emotions.
"Garments are not just to cover us", mentioning Lardini brothers' words (on your left, with glasses on his breast pocket, Luigi Lardini), as

food farming is not just to feed us.
There's an added value converting clothes in fashion and food farming in wine&food niche.
This something extra manages to move your feeling because laying on solid foundations.
Solid basis like hand-made products, taking account Lardini® clothes, as well as Gabrielloni® extra virgin olive oils, are entirely manufactured by hand; strictness in production and in quality control.
And besides, their clothes reveal creative skill, talent showed in the flower, that is Lardini® Group's mark, and affixes to Solivo extra virgin olive oil in order to highlight its elegance, taste and style.