ItaliaPiù has just been issued. The Magazine focused on Italian Districts and Territory talks about us. On page 172 you'll find the article, which you can read below.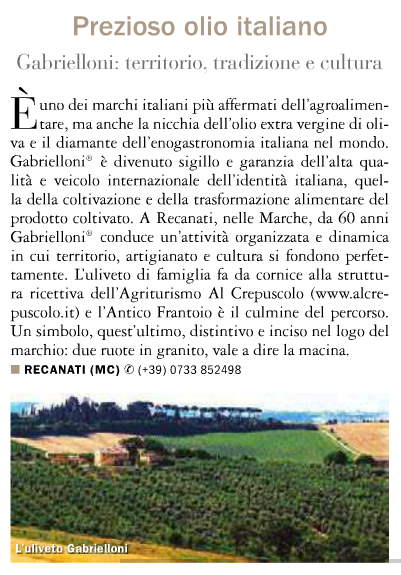 Precious Italian Extra Virgin Olive Oil by ItaliaPiù
Gabrielloni® stands for territory, tradition and cultural heritage
It's one of the most prominent food farming brand, but also niche of the extra virgin olive oil and pearl of Italian wine&food in the world. Gabrielloni® is seal and guarantee of high-grade and International expression of Italian identity, that one farming and food processing. In Recanati, Marches Region, Gabrielloni® leads for 60 years an organised and hard-working activity where landscape, handicraft and culture perfectly merge. Family olive groves surround the accomodation facilities Al Crepuscolo farm holiday and the historic oil mill is pinnacle of the process. A traditional process become characteristic and engraved on the Company brand logo: two granite wheels, that's to say the millstone.