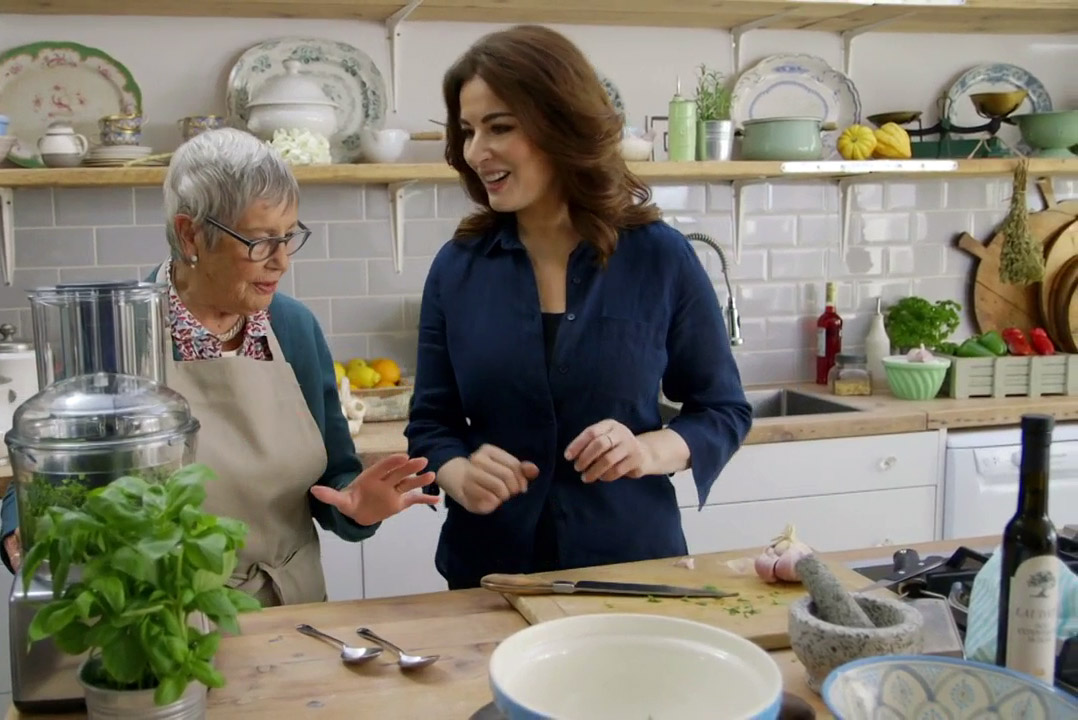 On BBC TWO Nigella Lawson's cooking TV programme dedicated to the historic gastronome Anna Del Conte and her recipes for whoever in England wishes to prepare an authentic Italian dish. Watch video.

Nigella Lawson, famous British food reviewer and broadcaster, pays tribute to her mentor Anna Del Conte.
A homage TV entitled The Cook Who Changed Our Lives. Watch video.
A tribute to that who's considered the pioneer of Italian cooking in England and the most eminent food critic of the United Kingdom.
Arrived in England in 1949 from her hometown Milan, in 1976 Anna publishes the first book Portrait of Pasta. From 1976 till today there are just as many publications opening the English palate to a new food concept: let us recall Entertaining all'Italiana in 1991.
Greater chefs and prestigious reviewers are unanimous in saying Anna Del Conte has been and still is the English representative of Italian food.
From the starry Giorgio Locatelli to the journalist and writer Prue Leith as well as the restaurateur Antonio Carluccio, everyone considers Anna Del Conte the revolution of British approach to the Italian cuisine.
Likewise Nigella Lawson, during the documentary, reveals she was influenced, as culinary journalist, by two main personality: her mother and Anna. Watch video.
"Whoever cooks", Nigella states, "should have an Anna's book", the best representative of Italian style. "Whoever loves food, as chef, critic or aficionado, should own one of her publications" since written with intellectual rigour and practical sense.
So, Anna Del Conte is the essence of Italian cooking in England. And on Nigella Lawson's TV programme, she shows it making a typical Italian sauce, named pesto, seasoned with extra virgin olive oil Laudato®.