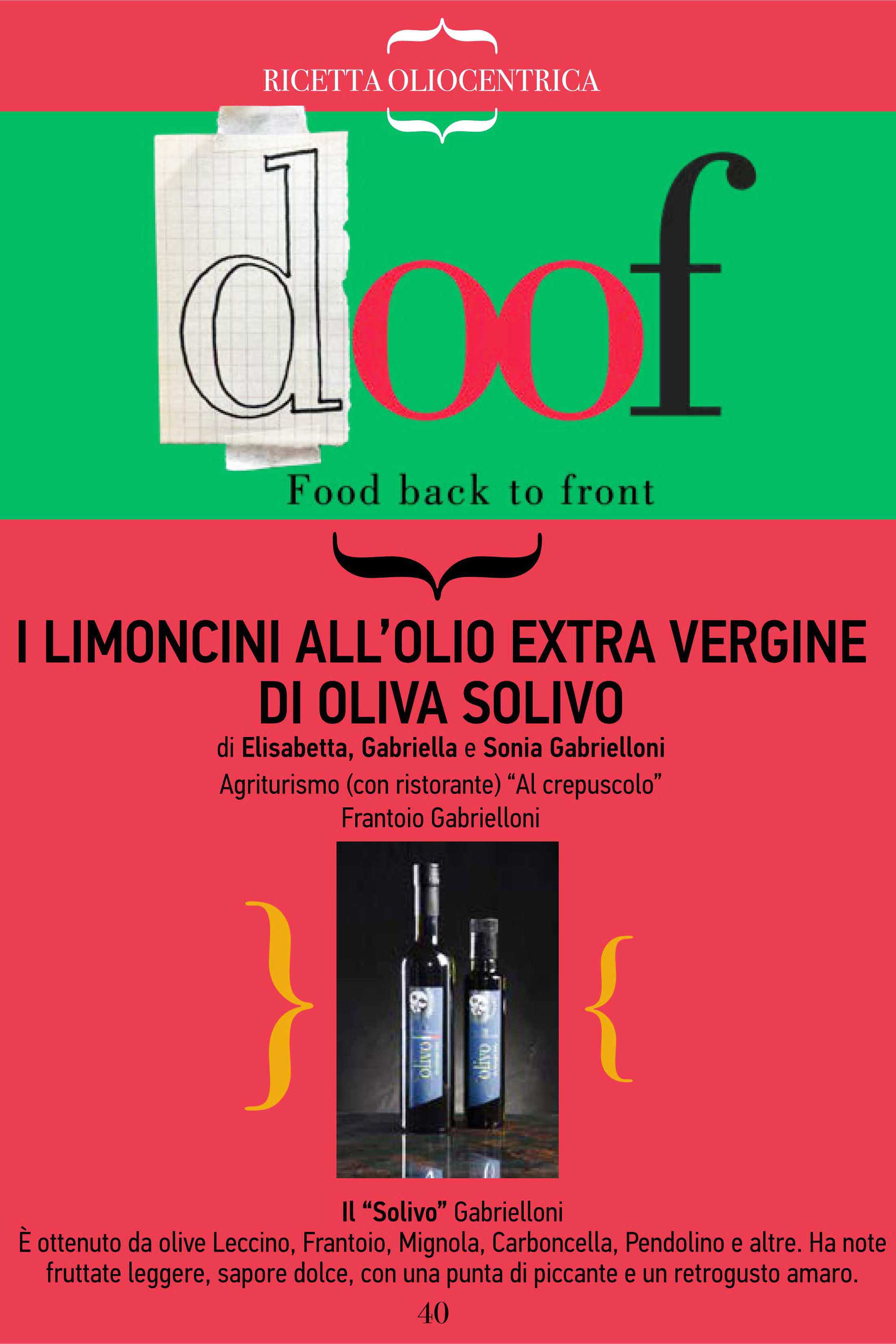 Oliocentrico olive oil magazine publishes traditional Italian recipe of limoncini sweets. Dough and frying by SOLIVO olive oil. Gabrielloni®'s owner Mrs. Elisabetta shows how to make them. Watch video.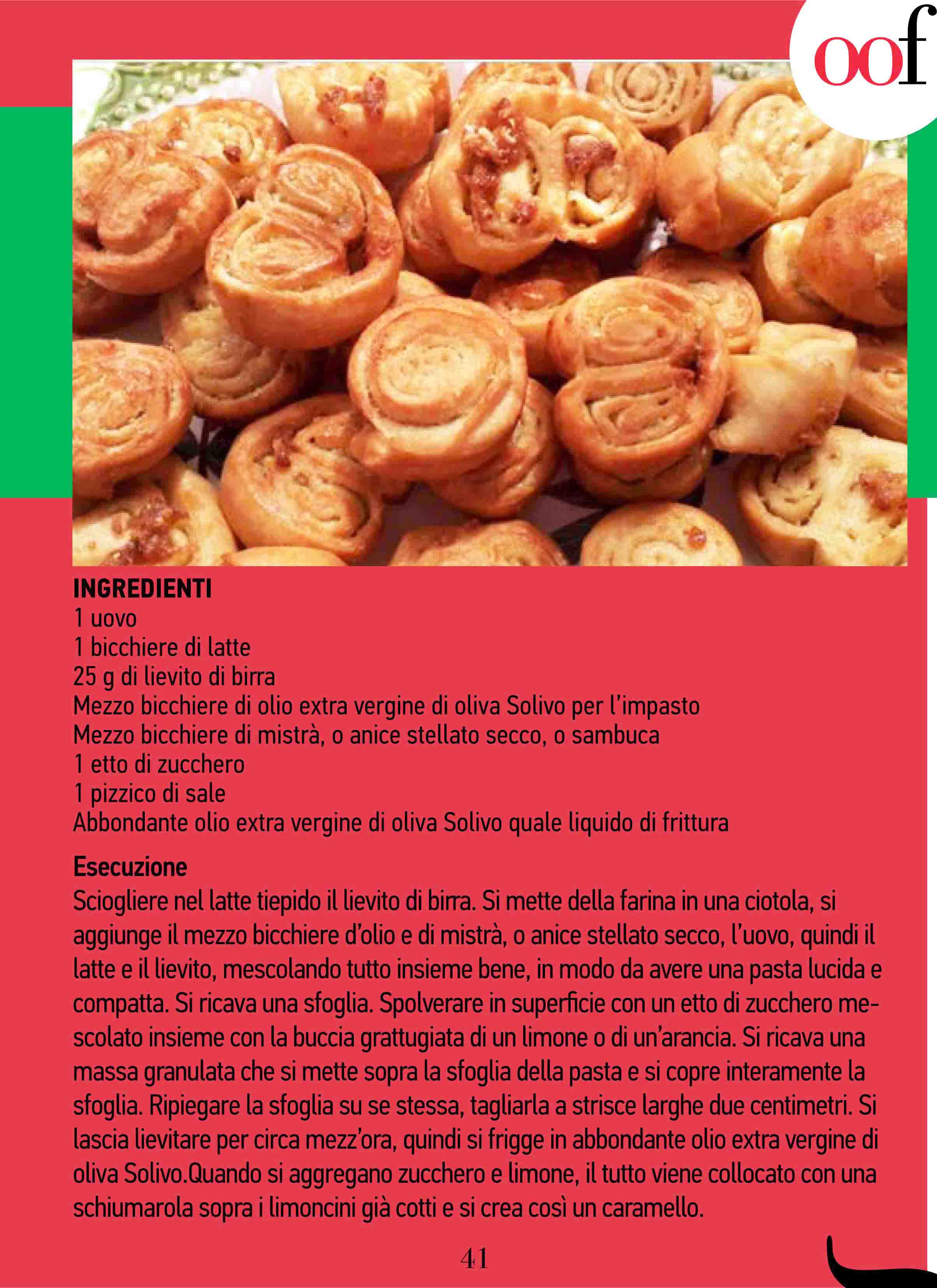 Limoncini are traditional Italian sweets of our Marche region. We usually make them for Carnival but they can be cooked whenever you wish. Let's start with recipe ingredients: flour, brewer's yeast, eggs, milk, SOLIVO extra virgin olive oil and a sprinkle of anisette liqueur. This traditional Italian recipe recommends also Sambuca or Limoncello liqueur in place of anisette.
For 2 eggs you need roughly 500g (1,1lb - 17,64oz) of flour. Pour a bit of flour on the table, trying to shape a fountain where you're going to put cracked eggs. Watch video. Let's take 100g (0,22lb - 3,53oz) of milk where you're gonna sink 50g (0,11lb - 1,76oz) of brewer's yeast. At this point warm milk up on burner, letting the brewer's yeast melt. Take care not to boil it. Scramble eggs in the flour fountain. Add in it 50g (0,11lb - 1,76oz) of SOLIVO extra virgin olive oil, a small glass of anisette liqueur and a sprinkle of salt.
Now pick up the warm bowl of milk stirring well last clumps of brewer's yeast, making them melt wholly. Keep scrambling eggs in the flour fountain and pour the milk with melted brewer's yeast. Catch around a bit of flour while stirring eggs and add the leftover flour. Continue mixing catching more and more flour around. Little by little we knead it all.
Carry on kneading the dough. If it happens to be too soft, add flour. Remind, the dough must be robust enough to be smoothed by rolling pin. If the dough sticks to the table, scatter a bit of flour across it. Let the dough rest some minutes. Now this traditional Italian recipe recommends grated zests of 2 lemons and 150g (0,33lb - 5,29oz) of white sugar. Stir them in a bowl. This one will be the stuffing of our limoncini sweets.
Get again the dough and cut it in half. By rolling pin we stretch the puff pastry. Keep rolling out up to a thickness of 2mm - 3mm (0,08in - 0,1in). Lay the stuffing of grated zests and white sugar on the puff pastry. Remind, you have also another dough to be filled, so not use now all the stuffing.
We wrap it up starting from the edge as a roll in order to obtain after slicing spiral-shaped limoncini sweets. This traditional Italian recipe also gives you a different way for rolling up the puff pastry so as not to have spiral but fan-shaped limoncini sweets. Wrap it up starting from both edges coming together halfway until they overlap. This is how we're gonna roll up the second puff pastry.
When finishing your two rolls, let them rest to rise for 30 minutes. Meanwhile pour SOLIVO extra virgin olive oil into the skillet and bring it to a boil. Remind, frying needs lots of olive oil and extra virgin is much more recommended since it has a high boiling point, higher than any other plant oils.
After leavening, cut the rolls into 2cm (0,8in) slices. Spiral-shaped and fan-shaped are not quite clear now, you will see them better after cooking. Don't worry if it is not so easy to follow this traditional Italian recipe, video is more clear. As you see, plentiful limoncini sweets with only 2 eggs. To check if oil is boiling, plunge a limoncino sweet into it. If limoncino sizzles, oil is ready for frying. So put other sweets into the boiling oil.
Give them time to brown off, to fry well and turn them upside down with a skimmer. If you notice crumbs on oil, no worries, a bit of stuffing is coming out from sweets. By skimmer try to grab that crumbs and top limoncini with them to obtain crunchy result. Small brown patches you see over sweets are the fried crumbs now caramelized I've used earlier for topping.
Watch video of this traditional Italian recipe of limoncini sweets. Enjoy your meal!